Frenger's Radiant Heating Panels Utilised in Chertsey High School
Frenger are proud to have supplied the New Chertsey High School in Surrey with both our Ecostrip and Modula Radiant Heating Panels to this modern teaching facility for 900 children from 11 to 16 years old. Built on the former Runnymede Centre site the school was funded by the Department for Education and overseen by the Bourne Education Trust.
The new state-of-the-art school was carefully designed to inspire creativity and comprises of 41 classrooms, as well as a multi-use games area, an external amphitheater, a dance studio, sports hall, main hall and a dining hall, covering an area of 72,333ft² campus.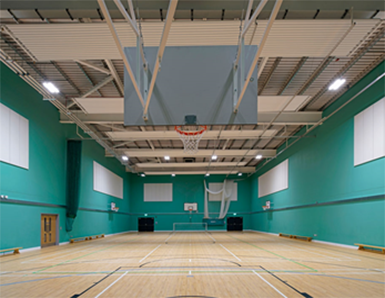 Frenger supplied their Modula radiant heating product as shown above to the new Sports Hall.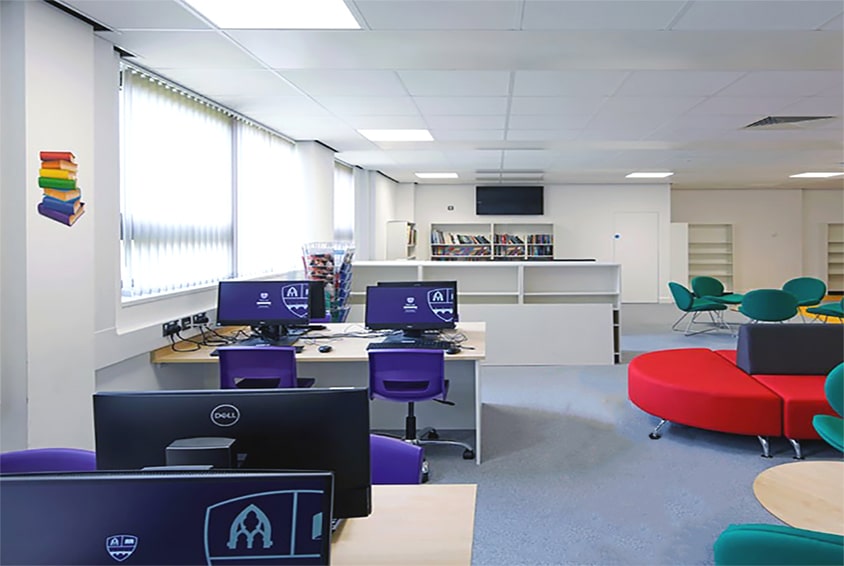 Frenger were also selected to supply their ceiling integrated Modula radiant heating panels as shown above to provide comfortable, affordable and energy-efficient heating within the classroom areas.
Frenger's Modula range of Radiant Heating Panels are available as 'SP' (Standard Performance) and 'HP' (High Performance) and as a ceiling recessed panel or a free hanging (exposed) panel with fully welded and linished corners for superior aesthetics. The unobtrusive modular heating cassettes are manufactured in house by Frenger, here in the UK and constructed from smooth-faced Zintec to which extruded aluminium heat exchanger pipe seats are fully bonded. Copper heat coils are inserted into the pipe seats for excellent heat transfer characteristics.
The 15mm OD copper coils are produced in-house on Frenger's state of the art full CNC serpentine bend machine from thousand metre drums of copper to make heating coils without any joints what so ever and to safe guard against risks of leakage. Frenger can provide tube centres as close as 70mm. Panels are insulated with class 'O' foil 'wrapped' mineral wool insulation pads of 45kg/m3 density. The technology employed in the construction of Frenger's radiant heating panels result in very high heating capacity, all of which are designed, developed and tested in Frenger's in house climatic test laboratories and are also independently tested and certified to EN13047.